Est. 1975
Offering the Finest In Custom Minting
Put your job in the Hands of Experience at Nevada City Mint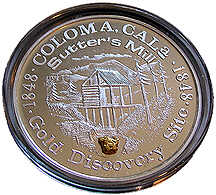 Located in the beautiful historic Gold Country Towns of Nevada City and Grass Valley, California, minting coins and medallions. Specializing in Educational, Historical, Nature, Natural Places, People, Events and Animals.
Custom Minting and Die Making
All you need to have is an idea! We can take your job from there. Working close with the customer to make the coin just as they want to see it. Our artist will put your coin together on the computer so we can make any changes and finalize your coin design before cutting the die begins. Nevada City Mint works to have the highest quality possible, three dimensional dies or two dimensional.
Nevada City Mint has an in house Machine Shop and Diamond Polishing. We are also supported by our own complete Tool and Die Shop with Heat-Treating at another location.
Products
Personal Awards
Special Events
Private Companies
Personal Coins
Professional Awards
Centennials 100 Year
Sesquicentennials 150 Year
Special Occasion
Holidays
Materials
We make coins and medallions out of .999 Fine Silver, .999 Fine Gold Clad, .999 Fine Silver Clad, and 90/10 Bronze, the highest quality of bronze on the market.
.999 Fine Silver up to 3 once rounds.
.999 Fine Gold coins are minted as a specialty for custom job only.
.999 Fine Silver Bars from ¼ once to 5 once, are another specialty item we mint.
Our mint gives the customer the highest quality at a very competitive price.